Contact

News
ELSA – Energy Local Storage Advanced system
Pilot test analysis, economic and environmental impact assessment and dissemination of results
In cooperation with ten other industrial and research partners from five European countries, B.A.U.M. Consult developed and tested within the EU project ELSA local energy storage systems based on second-life electric vehicle batteries.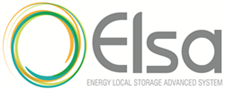 Description
During three years and nine months, the research project ELSA (Energy Local Storage Advanced System) developed decentralised small- and medium-size energy storage systems based on second-life Li-Ion batteries from electrical vehicles. These storage solutions improve the flexibility and efficiency of electrical distribution systems. They were applied in six demonstration sites representing several application contexts and covering different services such as grid congestion relief, local grid balancing, peak shaving, voltage support and regulation.
B.A.U.M. Consult was mainly responsible for the economic and environmental impact assessment as well as the project dissemination. ELSA was coordinated by the French company Bouygues.
ELSA has received funding from the European Union's Horizon 2020 research and innovation programme.
Services
Contribution to the analysis of local requirements for the pilot systems and system specifications
Contribution to the creation of a scalable ICT platform for managing storage and grid services
Support for the utility 'Allgäuer Überlandwerke' for the installation and operation of the pilot storage system in the Allgäu region (Bavaria, Germany)
Economic impact assessment
Environmental impact assessment
Contribution the field test evaluation, design optimization and technological impact assessment
Stakeholder involvement and dissemination of project results
Your contact at B.A.U.M.