Contact

News
IMEAS facilitated energy planning in Alpine Space municipalities
Harmonising energy planning with the help of common tools and guidelines from the municipal up to EU level
B.A.U.M. Consult GmbH developed tools and guidelines to standardise municipal energy planning as part of the Interreg Alpine Space Programme of the European Commission, under the team lead of ENEA, Italy. The IMEAS project integrated energy planning across all relevant silos and levels and identified gaps in European energy governance.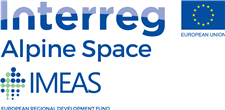 Description
In the three-years project "Integrated and Multi-Level Models for the Alpine Space" (IMEAS), 12 partners from 7 European countries united their experiences in municipal energy planning. Jointly they developed cross-border and cross-sector instruments for fostering a low-carbon society. IMEAS produced three main outputs: A white paper, containing a tool to interactively model the stakeholder network, a web-based platform with proven tools and guidelines and integrated roadmaps for the development of a low-carbon energy-sufficient model in the Alpine space. Additionally, a comprehensive IMEAS community was built throughout the course of the project.
Services
Guideline: Managing energy and climate data in horizontally and vertically (MLG) integrated low carbon models
Guideline: Implementing innovative solutions for sustainable energy systems
Guideline: The real low carbon model: energy efficiency in all parts of living or how to trigger change towards a low carbon society
Guideline: Integrating municipal and stakeholder approaches for sustainable mobility
IMEAS Energy and Climate Data Inventory
Guideline: Baseline Emission Inventories as a means to assess current status and potential CO2 reduction
Joint Action: Reinforcing the public administration to take action (Upper Bavaria and State of Salzburg)
Your contact at B.A.U.M.