Contact

News
B.A.U.M. partner in Forschungscampus FEN - Flexible Electrical Networks
Transdisciplinary research and collaborations
B.A.U.M. is one of the partners of the Forschungscampus FEN which is funded by the BMBF. The association of institutes of the RWTH Aachen University and of industrial partners investigates and develops the automation of the power grid and DC grid applications for a future grid with a high share of fluctuating and decentralized renewable energy sources.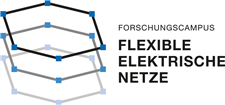 Description
In order to successfully cope with the challenges of our future energy supply, a high degree of transdisciplinary research and collaborations is necessary. The research of the Forschungscampus FEN focuses on the integration and development of direct current (DC) technology in six research topics: grid planning and operation, automation and control, standards and norms, cloud platform for smart energy services, components and power electronics and non-technical aspects, like social acceptance as well as biological, urbanistic and economical aspects. Forschungscampus FEN is supported i.a. by the eponymous funding initiative "Forschungscampus - öffentlich-private Partnerschaft für Innovationen" of the Federal Ministry of Research and Education (BMBF).
More about the project
Your contact at B.A.U.M.