Contact

News
e-MOTICON – Electric vehicle charging infrastructure for the Alpine Space
e-Mobility Transnational strategy for an Interoperable Community and Networking in the Alpine Space
From Munich to Padua by electric vehicle – in the EU funded project e-MOTICON, 15 partners from the Alpine Space are working on a transnational strategy for a consistent and interoperable development of the electric vehicle charging infrastructure.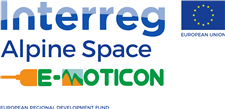 Description
The project e-MOTICON aims at a consistent deployment of electric mobility in the Alpine Space. The three-year project brings together 15 partners and 41 observers from six countries in Europe representing managing authorities, regional bodies, research centres and private investors.
e-MOTICON will support Public Administrations in the consistent deployment of electric mobility by developing and testing planning instruments and delivering knowledge on technological innovation and business modelling as part of a larger transnational strategy for an interoperable Community and Networking in the Alpine Space.
This project is co-financed by the European Regional Development Fund (ERDF) through the Interreg Alpine Space programme. The total amount of the project is 2.085.556,10 €, of which 1.772.722,67€ ERDF funds.

Services
Preparation of German state-of-the-art and future needs for electric vehicle charging
Contribution on setting up solutions for roaming and information systems on the location and availability of electric vehicle charging stations in the framework of the e-TRAIL and P&L pilot sites
Collaboration for the analysis and testing in the Berchtesgaden region and Allgäu region with a focus on involving companies
Contribution to setting up a transnational community for exchanging about e-MOTICON topics and findings