Contact

News
2ndVegOil – Decentrally produced vegetable oil fuels for modern agricultural machinery
A contribution to climate protection and rural development
Tractors with emission level 3A can easily operate in a climate-friendly manner with decentrally produced and purified vegetable oil. A wide range of different oils can be used as fuel. The principle feasibility of emission levels 3B and 4 has been proven.

Description
In the 2ndVegOil-project a vegetable oil purification process for decentralized oil mills was developed to application maturity. This allows to use vegetable oils of different kinds as fuel in modern agricultural machines. In parallel, additives, lubricating oils and tractor engines for operation with vegetable oil fuels were developed and tested in field trials.

Tractors adapted to operation with vegetable oil of emission level 3A ran successfully for a total of 24,000 hours with eight different vegetable oils. The suitability of rapeseed oil fuel for emission levels 3B and 4 was demonstrated in short field tests. Work on standardization resulted in the European Standardization Committee (CEN) Workshop Agreement CWA 16379.

Services
Preparation of a grant application in the 7th European Research Framework Programme for a consortium of ten partners from five countries on behalf of and under the leadership of John Deere
Negotiations with the European Commission on the conclusion of the funding contract and its successive adjustment (amendments)
Creation of tools for content and financial project coordination and controlling by John Deere
Organization of events to process the results of the project
Preparation of a study on the climate-friendliness of vegetable oil fuels
Preparation of reports to the European Commission
Your contact at B.A.U.M.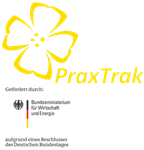 In PraxTrak, John Deere, the Technology and Support Center (TFZ), the Technical University of Kaiserslautern, the company regineering and B.A.U.M. brought vegetable oil tractors to practical maturity. PraxTrak was funded by the Federal Ministry of Food and Agriculture (BMEL) based on a resolution of the German "Bundestag". read more
---