Contact

News
Alpine Energy Meetings on Advanced Technology
Standardised event format and networking platform
Coordinated by B.A.U.M., the consortium of the EU funding project AlpEnMat developed the standardised event format JAM BITE. At the same time, JAM BITE serves as a networking platform, which connects SMEs offering innovative and sustainable technologies and services for the Alpine Space with investors and clients.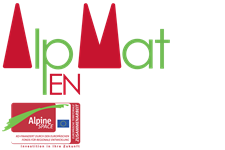 Description
AlpEnMat (Alpine Energy Meetings on Advanced Technology) aimed to support innovative SMEs of the Alpine Space in promoting their products and services by connecting with investors, buyers as well as private and institutional decision-makers. The project was intended to provide local entrepreneurs with a competitive advantage within the framework of the energy transformation. Therefore, the AlpEnMat team developed an innovative and standardised format for events and networking activities called JAM BITE (Join Advanced Meetings on Business, Innovation, Technology, Energy). B.A.U.M. coordinated the development of the event format and corresponding online platform and, together with the AlpEnMat partners, organised JAM BITE events in the Alpine Space. The AlpEnMat project was developed within the Alpine Space Programme 2007-2013 and co-funded by the European Regional Development Fund.
Services
Lead partner during project development and application process
Project management as lead partner
Event management
Analysis and evaluation of existing networking formats
Communication and knowledge transfer for the dissemination of the project results
More about the project
Your contact at B.A.U.M.