Contact

News
E-Bike charging station opened at the Biberhof

PV-Storeplus E-Bike launched at second location
3 May 2015, Sonthofen, Allgäu: The town of Sonthofen has a new attraction for bicycle tourists: Sonthofen's first mayor Christian Wilhelm together with Dr. Huber Lechner, managing director of the local utility "Allgäuer Kraftwerke GmbH (AKW)" opened the new charging station for E-bikes at the Biberhof, which is located close to Sonthofen in the Oberallgäu.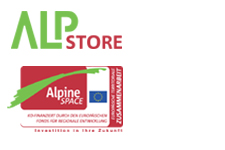 Battery storage for bicycle tourists and property owners
The use of motor-assisted bicycles has been steadily increasing in the past years: the private use of so-called e-bikes as well as e-bike tourism in Germany is constantly growing. At the same time, there are still several properties in the alpine region not connected to the electricity grid. With the project PV-Storeplus E-Bike, the AlpStore-team of the Allgäu pilot, B.A.U.M. and the Energy- and Environmental Centre Allgäu (eza!) wanted to address the needs of these property owner and bicycle tourists alike – by equipping the properties with battery storage units that serve as energy supply for the property as well as providing e-bike tourists with exchange batteries.
Two pilot-sites for PV-Storeplus E-Bike
PV-Storeplus E-bike has been installed at two pilot sites, at an alpine hut close to Oberstdorf and at the Biberhof, an old farm close to Sonthofen.The aim of the pilot project was to enable an energy system based on self-sufficiency by storing energy generated from PV-plants.
The deployed energy storage systems consist of used e-bike batteries that, due to their capacity decrease, are no longer usable as traction batteries in e-bikesWhereas the installation of this "second life" storage system was successfully implemented at the alpine hut near Oberstdorf, the Biberhof had to be equipped with regular lead-acid batteries. Since the old farm is not permanently inhabited, a battery exchange-station for e-bikes could not be supported appropriately. At both Pilot-sites, the AlpStore project was able to demonstrate that:
Self-supply over a period of several days by combining photovoltaic-modules and batteries can be guaranteed,
e-bikers readily accept new possibilities to decrease their "range anxiety"
There is worth in further developing the concept of"second life" battery storage systems (e.g. like ELSA that recently started, based on ideas of the AlpStore's PV-Storeplus).