Contact

News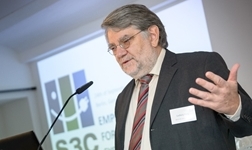 Presentation about the project S3C - Smart Consumer, Smart Customer, Smart Citizen

The project S3C (Smart Consumer, Smart Customer, Smart Citizen) is part of the European Commissions 7th Framework Programme for Research and Technological Development. The project S3C aims at empowering people for the smart energy system for the future. For that purpose, the S3C consortium is developing a toolkit for engaging end users of energy in smart energy and energy efficiency projects. Ludwig Karg, CEO of B.A.U.M. Consult GmbH Munich/Berlin is presenting intermediary results of the project.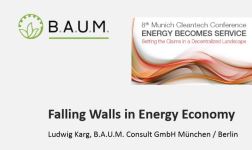 Presentation "Falling Walls in Energy Economy", 8th Munich Cleantech Conference
As the first major industrial nation, Germany can succeed in the transition to a highly efficient energy supply system based on renewable energies. However, the transition to a more decentralised energy supply will require a high level of support from society. Apart from utility companies and network operators, municipalities will need to take action - especially because this new energy system offers high potential for an increase in the regional value creation.
Ludwig Karg presented the success factors for the energy system of the future at the 8th Munich Cleantech Conference.